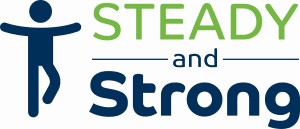 Steady and strong
Physical activity, including strength and balance, is vital for healthy ageing.
Falls are not an inevitable part of getting older and the good news is, falls can often be prevented.
Steady and Strong classes for older adults have been developed by experts to increase your strength and balance, helping you to stay stronger for longer and able to keep doing the things you love.
You will do a mix of seated and standing exercises, with chair support for those who need it.
There are classes at locations across Hampshire, and online class options. Use the search below to find the right class for you.
If you enjoy music whilst exercising, or like dancing and want to improve your balance and strength, Steady and Strong with Music (coming soon), or Steady and Strong Dance classes could be perfect for you. Steady and strong class.
If you don't yet feel ready to attend a Steady and Strong class, there are strength and balance exercises on the NHS Choices website that you can do at home.
If you have had a fall in the last three months you may be eligible for support through the NHS, which can include NHS balance classes. Please talk to your GP about local NHS falls services in your area. For more information about how to prevent a fall, please see our Falls Prevention page.